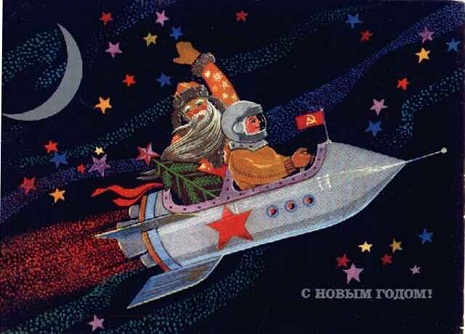 What do you get when you combine Soviet ideology and the ancient urge to celebrate the winter's frosty solstice? Science fiction "holiday" cards!
The folks over at the blog Dangerous Minds dug up this selection of Kremlin-approved tokens of the season, suitable for sending proletarian wishes of great joy which shall be to all the people of the working classes.
It's an interesting story which illuminates the practical struggles of the Soviet regime – do you adopt, co-opt, or dismantle the traditions of the people?  In this case they clung to a few things – a traditional Russian Santa-type figure known as Ded Moroz as a nod to the past, and a boy Cosmonaut to lead us to the glorious future.
As a Cold War kid, birthed in the era of Evil Empires and Iron Curtains, this stuff intrigues me. See the rest here.