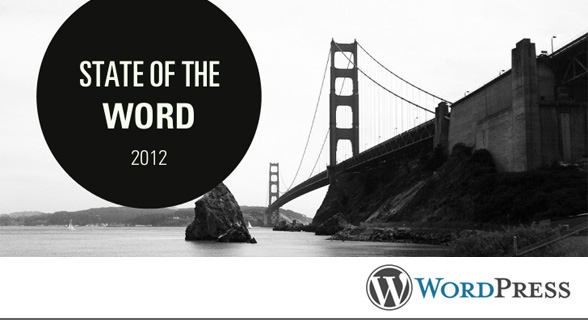 Last week, I posted my thoughts WordPress founder Matt Mullenweg's annual "State Of The Word" address from WordCamp San Francisco. One of these days, I've got to go to one of these things. They just seem to attract a lot of interesting people.  And nothing is more inspiring than rubbing shoulders with people that are genuinely enthusiastic about what they're creating. The company you keep can have a profound influence on your general disposition, the flow of your day, and perhaps even the state of your soul.
After watching the video again, I noticed some stats that got me thinking I'm in good company:
WordPress was downloaded 44 million times last year.
16% of the top 1 million websites are built on WordPress.
66% of WordPress users implement it as Content Management System (CMS).
Over 20,000 designers and developers make a living by creating sites through WordPress.
According to their survey, the average cost for a professional WordPress site these days is $2000 for a non-profit client, $2500 for a small business, and $4500 for a larger company web presence.
And I also noticed some things that lead me to believe that we're all going in the right direction. Towards the end of the presentation, Matt states that he sees the evolution of WordPress as moving into its third stage of growth. The first was all about blogging.  The second happened when WordPress developed into an excellent CMS solution.
And now he sees WordPress becoming an "App Engine".  More and more developers are finding creative ways to apply the behind-the-scenes structure of WordPress to unexpected, yet intuitive, user interfaces for tablets and mobile devices. This is the future, and WordPress is excited to be a part of it.
The web-world is littered with people who bet on one Betamax or another. I gotta say that it feels really nice to be on the right side of innovation.