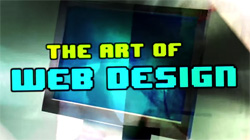 Discussing what I do is still a challenge.  In any given day, I'll have a conversation with a computer guy who's all about the code, an Apple kid who grew up making web-ready stuff on a Mac, and a businessman who really needs to offload another to-do item as fast as possible.
I'm in the middle of it all, and trying to build bridges between these points of view is a fundamental part of my job.  Each are valid and equally important.  Communicating the process through which their needs are realized can be tricky, but I think the following video just might help.
From a web series by PBS called Off Book, this short video only scratches the surface of what goes into crafting online media, but it sums up my thinking quite well.  Therein lies the concepts — the questions, concerns, and possibilities — that run through my mind with every new project.
Give it look – I might make a little more sense after you do!