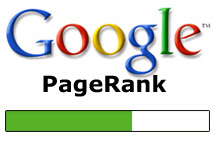 I'm a fan of Googler Matt Cutts.  He seems like a nice guy, and I've found the information that he provides – both officially and unofficially – to be just the ticket on many occasions. Recently, I was watching a video that he posted on Google's PageRank Toolbar and he said something that really surprised me:
"The information that you get from the Google Toolbar is updated about 3 or 4 times a year."
If you don't know, Google's PageRank Toolbar is a browser plugin that allows you to see, on a scale of 1-10, just what Google thinks of the page that you are perusing.
As we all know, Google rankings are a constant source of consternation for website owners and administrators. Everybody wants to be number one. At the same time, Facebook & Twitter have trained us to expect real-time feedback on everything that we post on the web.  We want comments, we want to be noticed, and we want it now.
So you'd think that Google – the company crunching the best data with the best algorithms on the best servers in the world – would be ready to serve our patience-parched needs, right?
But no.  Matt goes on to say that they purposefully take it slow.  Google wants us to stop obsessing over the numbers and to concentrate on building a better site – a site with quality content, snappy code, and a smart structure.  This is a job which should be measured in weeks and months, not hours and days. That's a real challenge. It's easy to whip something up. It's a rush to get some quick pat-on-the-back results.  But making something really good takes dedication.
So be aware of PageRank, but don't be too worried about the results:  The all-new gw-1 creative content has a PageRank of absolute zero!  Do check back with me in a few months – because I plan to change that, eventually.
Here's Matt's full video: